What is the ESNcard?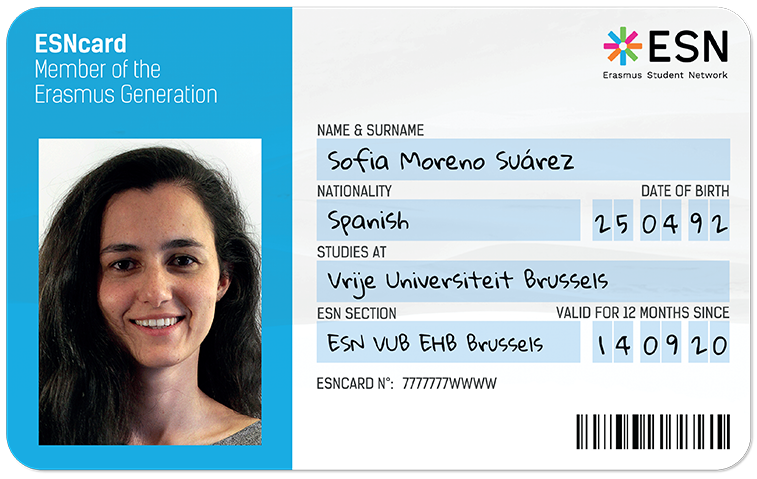 The ESNcard is not just one more card in your wallet! It is a proof of your relation with an Erasmus Student Network (ESN) section and an membership card that will get you multiple discounts.
With the ESNcard you will have access to all the advantages that your ESN section in Brussels, ESN Belgium, ESN International and all the other ESN sections in different countries & cities offer you! There are over 500 ESN sections all over Europe! This means that you will be able to use it not only in Brussels but also when you travel around Europe or once you're back home. 
While you are in Brussels, you will enjoy all the discounts that we have with the several establishments we have agreements with (bars, restaurants, shops, …) as well as discounts for all the activities that we organise for you at ESN:
Trips (Ghent, Bruges, Antwerp, Luxembourg, Amsterdam,…)
International dinners, beer tasting, parties,..
Many discounts in bars and shops all over the country
Check the platform ESNcard.org to find more information and see all the discounts that are registered all over the world.
Who can get the ESNcard?
The ESNcard is used by over 200.000 people per year in 40 countries, and the numbers are growing every year.
You can get the ESNcard in Brussels, if you belong to one of the following groups:
You are an international student (e.g Erasmus+ or any other exchange programme) in a Brussels institution.
You are an international intern in Brussels.
You are a volunteer in ESN (either active on the Local, National or International Level).
How to use your ESNcard?
After getting your card, register it in ESNcard.org with the unique ID code on your card and in just a few steps, you will have access to an international level of partnerships and discounts!