The city with balls is ready to welcome a few thousands of Erasmus and international exchange students during this new 2018-2019 academic year. A new board has been elected. A new visual identity, proper to ESN Brussels United, has been voted.
The Atomium logo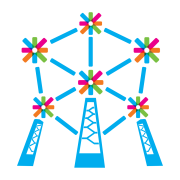 ESN Brussels United's development and further growth leaded to the need for proper identity. The result: a new logo, approved by the member sections. While representing the most iconic sight of Brussels, the atomium logo reflects ESN Brussels United's system of several sections converging into a strong confederation.
Four ESN sections are currently operating in the Brussels-Capital Region:
The four sections collaborate in a unique way in Belgium, forming a confederation for common events, trips, parties; synergy.